Kishore Vaigyanik Protsahan Yojna 2017
(Run by Indian Institute of Science)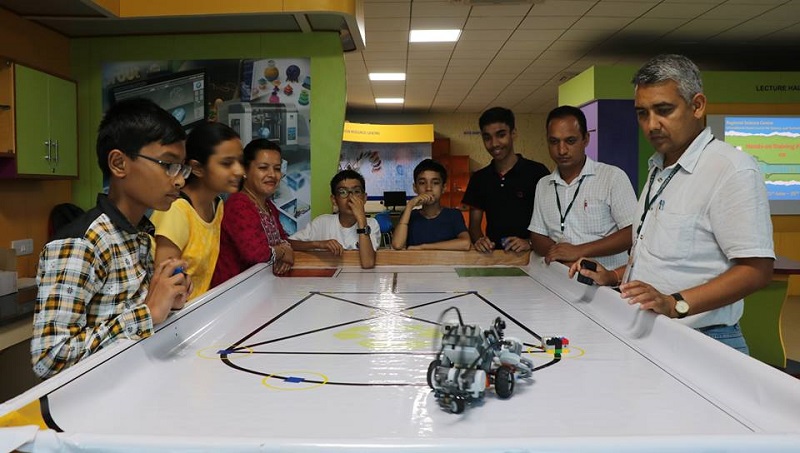 About KVPY: The Kishore Vaigyanik Protsahan Yojana (KVPY) is an on-going National Program of Fellowship in Basic Sciences, initiated and funded by the Department of Science and Technology, Government of India, to attract exceptionally highly motivated students for pursuing basic science courses and research career in science.
The objective of the program is to identify students with talent and aptitude for research; help them realize their academic potential; encourage them to take up research careers in Science, and ensure the growth of the best scientific minds for research and development in the country.
---
Applications are invited from Indian Nationals. However, as per the Interim Order (Final Order awaited) of the Hon'ble High Court of Karnataka OCI/PIO students will be allowed to write the KVPY Aptitude Test 2017.
---
Fellowship
During 1st to 3rd Year of B.Sc / B.S / B.Stat. / B.Math / Integrated M.Sc / M.S : Monthly Stipend of 5, 000 | Annual Contingency Grant: 20,000 (INR)

During 1st and 2nd Year of M.Sc / 4th & 5yh Year of Integerated M.Sc / M.S.: Monthly Stipend of 7,000 | Annual Contingency Grant: 28,000 (INR)
Click Here to Read More about Fellowship
---
Application for KVPY-2017 must be done online only.
There are three steps to complete your application successfully;
Step  1.  Registration.
Step 2. Filling personal and academic details, choosing test centre and uploading photo, signature and other certificates as applicable.
Step 3.  Payment of application fees. Please note that you must pay the fees only at the KVPY application portal. This can be done either by using a credit card/ATM-Debit card/Net Banking or by downloading a e-challan from the application portal. No other means of payment will be accepted.  Once payment is successful and application submitted no refund will be done.
The application fee for KVPY-2017 are as follows:
For SC/ST/PWD: Rs. 500 | For General Category/OBC: Rs. 1000
It is strongly recommended that candidates read the instructions carefully before attempting to fill the online application. These steps are described in detail here.
KVPY Online aptitude test 2017 will be held in the following 54 cities:Agarthala(Tripura), Agra(Uttar Pradesh), Ahamedabad(Gujarat), Allahabad(Uttar Pradesh), Ambala(Haryana), Aurangabad(Maharashtra), Belagavi(Karnataka), Bengaluru(Karnataka), Bhopal(Madhya Pradesh), Bhubaneshwar(Orissa), Calicut(Kerala), Chandigarh(Chandigarh), Chennai(Tamil Nadu), Coimbatore(Tamil Nadu), Dehradun(Uttarakhand), Delhi(Delhi-NCR), Durgapur(West Bengal), Eranakulam(Kerala), Faridabad(Delhi-NCR), Ghaziabad(Delhi-NCR), Guwahati(Assam), Huballi(Karnataka), Hyderabad(Telangana), Indore(Madhya Pradesh), Jaipur(Rajasthan), Jalandhar(Punjab), Jammu(Jammu & Kashmir), Jamshedpur(Jharkhand), Jodhpur(Rajasthan), Kanpur(Uttar Pradesh), Kolkata(West Bengal),  Lucknow(Uttar Pradesh), Madurai(Tamil Nadu), Mangaluru(Karnataka), Mohali (Punjab), Mumbai (Maharashtra), Mysuru(Karnataka), Nagpur(Maharashtra), Noida (Delhi-NCR), Pallakad (Kerala), Patna(Bihar), Pune(Maharashtra), Raipur(Chhattisgarh), Rajkot(Gujarat), Ranchi(Jharkhand), Rourkela(Orissa), Salem(Tamil Nadu), Siliguri(West Bengal), Thrissur(Kerala), Trivandrum(Kerala), Vadodara(Gujarat), Varanasi(Uttar Pradesh), Vijayawada(Andhra Pradesh), Visakhapatnam(Andhra Pradesh)
PLEASE NOTE KVPY-2017 APTITUDE TEST WILL BE COMPLETELY ONLINE
Mock Computer Based Test of KVPY Aptitude Test – Click here (Login ID: KVPY, Password: KVPY)
Please note:   As virtual calculators will be made available  at  the examination venue, as displayed in the mock link,  candidates are not allowed to carry calculators inside the examination hall.
Important Dates
Opening of online application portal
: 16th July 2017
Last date for closing of online application
: 23rd  August 2017
Exam Date
: 5th November 2017
Support Helpdesk Details
IF YOU REQUIRE ANY INFORMATION RELATED TO Application Form,

CALL ON 080 – 22932975/76, 080- 23601008 & 080 – 22933536

Email to application@kvpy.iisc.ernet.in

THE PHONE NUMBERS ARE AVAILABLE BETWEEN 10:00 AM AND 05:00 PM.

* Saturday and Sunday are Holidays.

For more detail like Eligibility etc visit official website
---
---
Featured Image: Regional Science Center, Dehradun | Content Source: KVPY Website 
---
Disclaimer: Read on Intellectual Property / Copyright Issue (Image and Information)
Read
Our
Policy
Send your idea, opinion or news related to technology, engineering to us if you want it to publish on our blog. Tech Counsellor Team